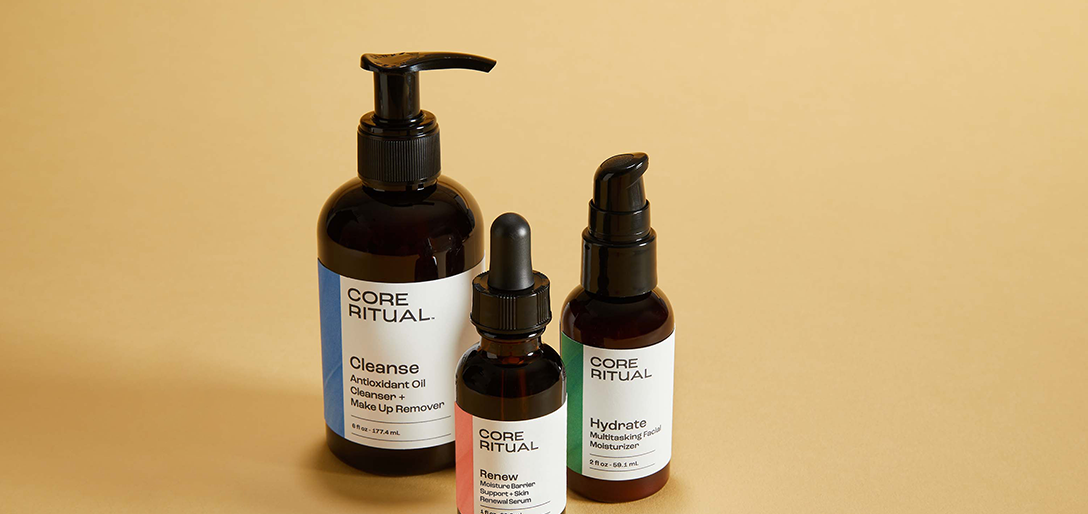 Today's skincare market is flooded with overrated, complex, and expensive routines that don't always deliver on their promises. And let's be honest, it's hard to keep up with that *too many steps to count* skincare routine. Who has all that extra time and energy to spare? Especially twice a day. Every. Single. Day.  
That's why when it comes to taking great care of your skin, simplicity is key. And here's some good news—you don't have to settle anymore! You can get the results you want, without compromising your time or energy. With Core Ritual's Simple Skincare Set or Skincare + Supplement Set you can finally have a skincare ritual that's exactly what it should be, simple and effective. 
ALL THE RESULTS YOU WANT . . .  WITHOUT THE HASSLE
When we talked to people about what they needed from their skincare routine, and what their current skincare routine was missing, one answer was consistent…simplicity. It's hard enough to start a new skincare habit, but when you layer in hard-to-understand ingredients and an overcomplicated process, it's near impossible to keep it up. In order to maximize the effectiveness of your skincare with a routine you know you can commit to, it's best to stick with proven products and fewer steps that you know you'll actually follow everyday. 
That's where Core Ritual comes in. We've created an easy, effective, and affordable skincare routine that's so simple, it will become more than a habit…it will become a ritual, and one that you'll delight in using every day. Core Ritual's skincare sets are specifically designed to keep your skin looking its best while saving you time. Even if you only have a few minutes each day, Core Ritual can deliver effortless skincare that takes you the extra mile without the extra work. 
Our Simple Skincare Set is perfect for you if you're ready to enhance your skin but need it to fit into your current day-to-day schedule – just three simple steps to cleanse, moisturize, and lock in hydration. Our Skincare + Supplement Set takes it a step further by adding a second serum for added environmental protection and two powerful supplements to round out your skincare ritual by promoting naturally healthy skin from the inside out. 
Whether you're just starting to shop around for a skincare routine or you've been consistently taking care of your complexion for years, it doesn't have to be complicated to get the results you want. Our unique skincare sets will simplify your beauty routine, with fewer steps and powerful, proven ingredients.
SIMPLE IS BETTER, ESPECIALLY WHEN IT COMES TO YOUR SKIN
When it comes to skincare, less is more—as long as you have the right products in your beauty cabinet! You don't need dozens of different skincare products, you just need a few quality ones that you'll actually use. That's why we've revolutionized the typical skincare routine with Core Ritual for a simpler, effective approach to naturally radiant skin. 
Knowing and understanding the ingredients that go into your skincare products should be essential in determining whether you want to put those products on your skin. At Core Ritual, we ensure that each and every one of our products contain clean ingredients that are derived from ultra-pure, cold-pressed seed oils so that you can achieve that visibly glowing skin you desire, naturally with minimal effort.
Core Ritual seed based skincare and supplements are free of artificial preservatives, parabens, and dyes. They're also third party tested for quality and the packaging is recycled or recyclable. We've done the work to make sure our products are both safe and effective so you don't have to worry about what you're putting on your skin or in your body.
Here's a quick breakdown explaining the benefits of each product in these two skincare sets . . . 
CORE RITUAL'S SIMPLE SKINCARE SET 
contains three skincare products to use topically.
Cleanse™ is our antioxidant cleansing oil and makeup remover that leaves your skin feeling clean, moisturized, and nourished, while leaving no oily residue. It visibly helps to diminish the appearance of pores and fine lines, and it optimizes the renewal of new cells to reveal a more youthful glow and protects your skin against environmental stressors. Unlike other harsh chemical-based products, Cleanse doesn't strip your skin of its natural moisture. Instead, the soothing ingredients leave your skin feeling soft after every wash!
Renew™ is our moisturizing serum that helps promote visibly smoother, tighter, restored looking skin. By supporting skin elasticity and aiding in the skin's natural exfoliation process, it reduces the appearance of scars and visibly smooths fine lines and wrinkles. Our serum, rich in antioxidant properties, moisturizes your skin without feeling heavy. With a relaxing lavender scent, Renew is an easy and enjoyable addition to your evening ritual to help you wind down and relax. 
Hydrate™ is our lightweight, multitasking facial moisturizer that delivers intense hydration. It lasts all day and helps visibly reduce fine lines and wrinkles. Hydrate is the perfect addition to both your morning and evening ritual to optimize your skin's moisture barrier. It leaves your skin looking smoother, fuller, and more hydrated without that sticky feeling that can linger with other moisturizers. Hydrate is gentle enough for any skin type (even if your skin is on the oily side) and light enough to layer over your favorite serum. And when you apply makeup after using Hydrate, it glides easily over your skin.
CORE RITUAL'S SKINCARE + SUPPLEMENT SET 
contains the three skincare products listed above 
PLUS
a second serum and two beauty supplements to nourish your skin from the inside out.
Protect™ is our Vitamin C serum that helps defend your skin against common sources of environmental damage. It helps to increase your skin's radiance and diminishes dark spots to reveal a visibly brighter, more even complexion. By using BV-OSC Vitamin C (a powerful type of Vitamin C), it stimulates the skin's natural exfoliation process, and is less irritating than other commonly used forms of Vitamin C. This is why our serum is so effective! With its energizing tangerine scent, Protect makes the perfect addition to your morning ritual.
All four skincare products Cleanse™, Protect™, Renew™, and Hydrate™ work synergistically to visibly reveal a more youthful complexion!
Radiance™ is our supplement that supports the healthy growth of your skin, hair, and nails. It also combats many causes of hair loss as we age. Radiance optimizes your skin's natural exfoliation process to support the elasticity of the skin and reduce visible signs of aging. It also improves the visible texture of the skin, evens skin tone, and helps counter free radicals.  Radiance makes an excellent addition to the entire Core Ritual™ skincare product line to harness your beauty from the inside out.
Core™ comes in easy-to-swallow softgels or in liquid form to make it easier than ever for you to prioritize whole body health. Core supports the optimization of your immune system, and helps counter free radicals with antioxidant properties to support healthy aging, as well as heart, brain, and gut health. This supplement contains a wide array of good-for-you Omega-3s and essential fatty acids which can help maintain healthy levels for blood pressure, cholesterol, cognitive function, and heart health already within normal range. Core helps keep you healthy from head to toe! 
All of our products contain ultra-pure seed oils that are extracted exclusively through our NatureFRESH Cold Press™ process, so you can trust that they'll be a high quality addition to your lifestyle. Adding Core Ritual's products to your daily routine is the most simple way to help keep your whole body in tip-top shape and to help your skin age gracefully. You'll not only look better, but you'll feel better too!
PRODUCTS THAT WORK SYNERGISTICALLY—AND MAKE YOUR SKIN HAPPY
Our plant based and science backed products help keep your skin naturally healthy by delivering powerful nutrients, antioxidants, and hydration that your skin needs to thrive. All of our simple natural skincare products have been studied and tested to work synergistically and perform in perfect harmony. You'll see more healthy, youthful, and radiant looking skin without having to overload your face with chemicals. With fewer, more effective skincare steps, it'll be easier for you to establish your routine and turn it into a daily practice(even if you're super busy!). You'll spend less time keeping up with your beauty ritual—while getting way more out of it.
Ready to ditch your time consuming skincare routine and start your simple skincare ritual?
Get Core Ritual's 
Simple Skincare Set
or 
Skincare + Supplement Set
to start your ritual ASAP! Not only will you save time and money with Core Ritual's simple skincare routine, you'll also reveal naturally radiant skin.