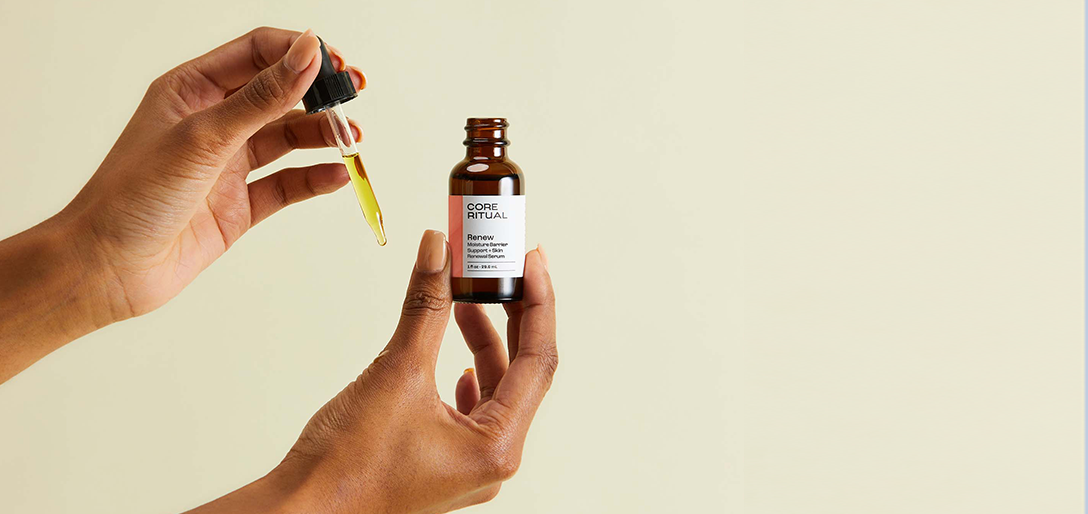 With so many skincare products claiming to deliver the same kinds of benefits, it's almost impossible to know which one will actually give you the best results. Even we use the typical beauty lingo—that our products visually smooth fine lines and moisturize your skin—but there's a big difference between us and them . . . our seeds and our science. 
Based on over 20 years of producing and selling the highest-quality cold pressed extra virgin seed oils, we've unlocked the power of seeds to help people live better and age gracefully with Core Ritual™. We've always used the purest ingredients and finest methods to produce our high quality seed oils, and now we're able to bring you what we believe to be the most effective seed-powered skincare products on the market!
While each Core Ritual skincare product has its own unique benefits, our Renew™ serum is a fan fave with its powerful antioxidant properties. If you're ready to see what all the hype is about and jump-start your journey to healthy skin, Renew is easy to use consistently and might just become your new favorite skincare product. 
DON'T GET MAD . . . GET  EVEN—EVEN SKIN TONE THAT IS
Each product in our Core Ritual skincare system has been specifically designed to naturally nourish your skin and promote a more visibly even skin tone, simply, without the need for an overcomplicated beauty routine. While all of our products are designed to work synergistically together to bring you the most powerful results, using even just one individual product as advised can help your skin age gracefully. 
We understand that starting a brand new, comprehensive skincare routine can be intimidating and expensive. We also know that many other complicated skincare routines can irritate your skin, drain your wallet, and leave you feeling frustrated. That's why we want to share with you just how beneficial using even one of our products can be for your skin. Once you see your skin visibly improve, you're going to want more. And upgrading to our simple skincare ritual is super easy and cost effective. 
HELP YOUR SKIN RENEW – NATURALLY 
Help renew and repair your aging skin naturally with Core Ritual's skin renewal serum. This seed powered product, rich in antioxidant properties, provides moisture barrier support to promote healthy skin renewal without leaving your skin greasy or sticky. It helps visibly reduce the appearance of scars, fine lines, and wrinkles, bringing you smoother and tighter feeling skin. Renew also helps protect your skin from many common environmental stresses including air pollution. 
Our potent synergistic blend of organic black cumin seed oil, cranberry seed oil, organic raspberry seed oil, and blue seakale helps diminish visible signs of aging while being gentle enough for sensitive skin. These hero ingredients can visibly calm complexions, moisturize skin, reduce scars, stimulate the skin's natural exfoliation process, and protect skin from environmental stressors. With all of these high-powered seed oils combined, Renew delivers meaningful benefits for skin at any age!
With a relaxing lavender scent, this moisturizing skin renewal serum is an easy and enjoyable addition to your evening ritual. When you wind down for the night, the seed oils get to work by optimizing the skin's natural exfoliation process  to reveal healthy, renewed skin. 

WE DON'T BELIEVE IN ANTI-AGING—WE BELIEVE IN HEALTHY AGING
All of Core Ritual's products are designed to be most effective when used regularly, but this doesn't mean that using more equals faster results. If you stick to your daily routine consistently, it doesn't take a lot of product to get the results you want. Your skincare ritual can be both simple and effective when you use the purest, highest quality, and most potent ingredients. Starting with just one product like Renew will visibly help your skin age gracefully. 
Ready to have glowing skin and a glowing attitude? 
Get Renew moisture barrier support and skin renewal serum from Core Ritual to harness the innate power of seeds to elevate your beauty ritual and start your healthy aging journey. 
Save 5% on every order when you sign up for our monthly subscription!